Archive for February 2011
You are currently browsing the WWJ News blog archives for February, 2011.
Monday, February 28th, 2011
CHICAGO (WBBM/CBS) – Dozens of workers for a temporary staffing company in the southwest suburbs, say they've been cheated out of pay they earned.
As WBBM Newsradio 780′s Regine Schlesinger reports, the workers are now suing in federal court.
A total of 120 employees at Reliable Staffing in New Lenox accuse the company of shortchanging them on pay, and illegally withholding information that would have allowed them to figure out how much they were owed.
"In the lead-up to the Christmas season – the holiday season – they worked an inordinate number of hours, well in excess of 40, for many of the weeks that they worked prior to the holidays," said plaintiffs' attorney Chris Williams, "and they were not even paid even the federal or state minimum wage."
Monday, February 28th, 2011
Working In These Times
By Kari Lydersen
CHICAGO—After three months of working in a Wal-Mart warehouse in the Chicago suburbs last fall, Robert Hines was fed up with getting paid much less than he had been promised by the company Reliable Staffing, which hired temporary workers to unload containers.
But the final straw came when he wasn't paid at all for seven 10-12 hour days he'd worked shortly before Thanksgiving, he says. His calls to the agency weren't returned, and when he went in person to demand his money, he said a manager claimed he and his work partner, Leo Williamson, had never worked those days at all.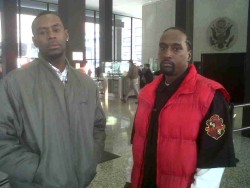 So Hines and Williamson are among eight named plaintiffs in a class action lawsuit filed today in federal court charging Reliable Staffing, its owner Daniel Gallagher and Schneider Logistics, which runs the Wal-Mart warehouse in Elwood, Ill., with violating state and federal labor laws.
Monday, February 28th, 2011
Chicago Tribune
By Alejandra Cancino
Warehouse workers in New Lenox accused a staffing agency of shorting their wages, denying them overtime pay and, in some cases, paying them below $8.25 an hour, the state's minimum wage.
The workers filed a class action lawsuit on Monday in federal court in Chicago against their employer Reliable Staffing Group, Inc. and the company contracting them, Schneider Logistics Inc.
The workers were hired by the staffing agency to unload boxes from trucks and put them on shelves at Schneider's warehouse in Elwood, Ill, according to the suit. They were promised $10 an hour, plus a rate for the number of boxes they would unload. But the promise was not issued in writing, and workers were not paid as promised.
Later, when workers tried to get information on their wages, they were "rebuffed and threatened with being taken off the call back list," according to the suit.
The suit seeks to recover workers' unpaid wages in the last three years.
Reliable Staffing Group and Schneider Logistics couldn't be reached for comment.
Monday, February 28th, 2011
New Lenox Patch
By Joe O'Donnell
A lawyer, an advocate and five warehouse workers marched into the Dirksen Federal Courthouse in downtown Chicago on Monday morning to file a class-action lawsuit against a New Lenox staffing agency that they say shortchanged its workers.
Eight warehouse workers were listed as plaintiffs in the case against Reliable Employment Services, Inc., 14422 Edison Drive. The case language alleges the workers "and other laborers similarly situated were denied overtime and other promised wages owed to them and even, in many cases, denied the minimum wage."
Attorney Chris Williams of Working Hands Legal Clinic represented the plaintiffs Monday. The group of workers was also accompanied by coordinator Abraham Mwaura of Warehouse Workers for Justice, an advocacy group that have been working with the plaintiffs since the overtime-heavy holiday season.
Monday, February 28th, 2011
Joliet Herald News
By Cindy Cain
CHICAGO — Employees filed a class-action lawsuit against Reliable Staffing agency of New Lenox on Monday in U.S. District Court.
The employees filed the lawsuit after they say their attempts to collect billing and pay records from the temp agency failed.
Last week, workers told The Herald-News that they weren't being paid for overtime and they were forced to report for work at 6:45 a.m. but didn't start getting paid until 8 a.m. The issues date back to the busy Christmas season when the Reliable workers staffed the Walmart warehouse in Elwood.
The workers are being assisted by Warehouse Workers for Justice, a Chicago-based group that has come to Will County to try to improve conditions for warehouse temp workers.