Archive for November 2014
You are currently browsing the WWJ News blog archives for November, 2014.
Friday, November 28th, 2014
By Joann Lo and Jose Oliva
These days, super heroes are all the rage, it seems. Most have supernatural powers to do good in the world. But we have people in our food system who don't need super powers to do good in the world – they're our everyday food worker heroes. And so for our 3rd annual International Food Workers Week, November 23-29, 2014, we're celebrating them with a series of videos called Food Worker Heroesfeaturing one worker per sector of the food chain and a new Food Worker Heroes Tumblr blog!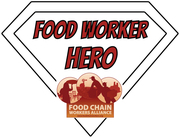 …..And last, but not least, is Bakari, a warehouse worker outside of Chicago and a member of the Warehouse Workers for Justice (WWJ). "In all my experiences working in warehouses and the food industry, I suffered some discrimination. We need health benefits. We need to pay bills. It's hard with what the companies pay you." Bakari says he's glad that there are organizations like WWJ and the Food Chain Workers Alliance. "We are all one people. We're just striving for fair working conditions."