May 11th, 2014
From 91.5 WBEZ:

A Boston University economist is taking over as the nation's Wage and Hour administrator. David Weil will enforce laws like the minimum wage and the 40-hour week. WBEZ listeners heard from Weil last month in our series about franchising. The franchising business model, he said, deserves part of the blame for low wages in fast food and other industries. We look at how this idea could play out in Weil's new job at the Department of Labor. We're joined by Leah Fried who is with the Warehouse Workers for Justice. She joins us to talk about warehouse workers and the wage issues they face.
May 9th, 2014
One year after a Bangladesh factory that produced Walmart clothing collapsed, killing more than 1,100 people, the retailer is still turning a blind eye to dangerous conditions in their supply chain, according to a group of activists who staged a protest Thursday on the North Side of Chicago.
"We've been seeing problems after problems in Walmart's contracted warehouses and it's time Walmart step up and take responsibility and fix these problems," said Mark Meinster, campaign director for Warehouse Workers for Justice.
Read more at Progress Illinois
April 28th, 2014
Josh Eidelson
Salon.com
Workers at an Indiana Wal-Mart warehouse allege they were subjected to safety risks including falling freight, forklifts on fire, and frostbite – and then illegally fired for organizing in response.
"They never want you to stop working," said fired worker David Fields. "They want you to keep working – and no matter how unsafe it is, they want you to just keep going." Fields, who asserts he was fired this month for organizing co-workers to take on safety issues at Walmart Consolidation Center #7100, joined co-workers in filing National Labor Relations Board charges alleging illegal retaliation. He told Salon that a temp agency manager terminated him April 2, the same day workers planned to deliver a petition with 100-some signatures protesting unsafe conditions. "Seeing we were all on the same page," charged Fields, "they got threatened, and this is why they got rid of me." He added that management had been intentionally "secretive" about ejecting him: "They took me out the side door, and they basically fired me on lunch."
Wal-Mart, the only company whose goods move through the Hammond, Indiana, consolidation center, has contracted Linc Logistics (a subsidiary of Universal Truckload Services) to run the facility; Linc has brought in temp agencies Malace HR and Swift Staffing. Wal-Mart, UTS, Malace and Swift did not respond to Salon's requests for comment on the allegations. Linc "has said the disciplinary actions were unrelated to the protests in January," according to The Times of Northwest Indiana.
April 26th, 2014
By Yana Kunichoff
In These Times
Excerpt:
Thirty-some protesters picketed outside of a Walmart Express on Chicago's North Side yesterday, the one-year anniversary of the Rana Plaza collapse, stressing that the differences in Walmart's treatment of its workers in the supply chain are only of severity.
David Fields, 44, was among the group of Chicago-area protestors. Fields says he was fired from his job this month—as a forklift driver at a warehouse that supplies Walmart, half an hour south of the city in Hammond, Ind.— because he spoke out about the need for an adequate fire alarm system in the building. And that safety concern was only the tip of the iceberg, said Fields, who had been working at the warehouse since September. "At some point we all started feeling like modern day slaves," he said, describing his days working in sub-zero temperatures during the icy polar vortex that hit Chicagoland this past winter. "They didn't care that people were getting frost-bitten."
Fields' complaints carry echoes of those commonly made by workers in supply-chain factories overseas, especially the pressure to always speed up production and continue working in severe climate conditions. Najneen Akter Nazma, a factory worker who survived the Rana disaster—though her husband was killed—said she and her husband had been told about a crack running across the floor near his workstation, but knew they couldn't take a day off work because it would cost them their monthly salary. And for Fields, a slippery floor in the warehouse, wet after a day of rain—which for his supervisors is no excuse to slow down work—carries with it the constant fear of being injured by the heavy loads he used to work with.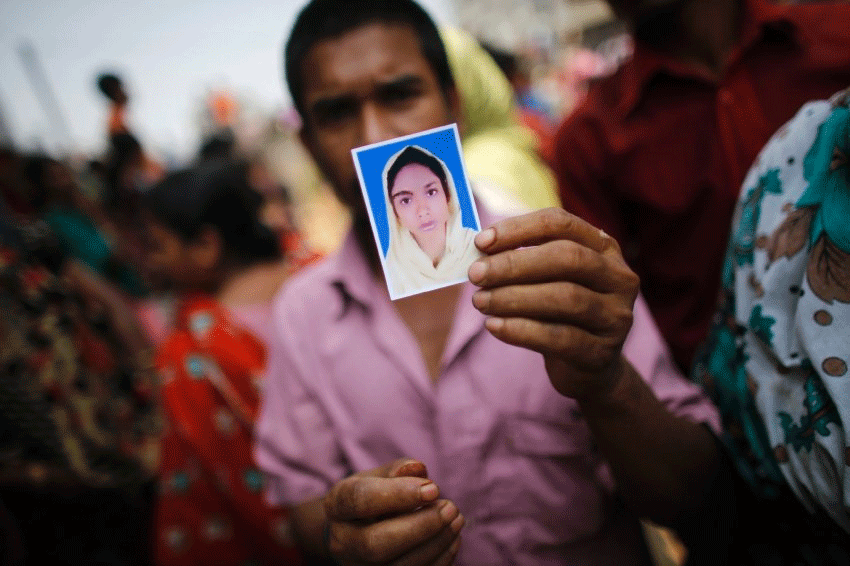 April 18th, 2014
By Joseph S. Pete
NW Indiana Times
Warehouse workers who objected to working in minus 15 degree Fahrenheit weather this winter filed a complaint with the National Labor Relations Board this week.
They say several workers, including Warehouse Worker Organizing Committee leader David Fields, were fired in retaliation for raising safety concerns, such as that brakes on forklifts were bad and there was not a fire alarm system at the Walmart Consolidation Center #7100 on 141st Street in Hammond. The Unfair Labor Practice charges seek reinstatement and back pay.
"All we want is to be safe at work, moving millions in Walmart freight," Fields said. "But instead they are fighting us every step of the way. They fired me to try and stop us, but this just makes me want to fight harder to win justice."