Archive for January 2014
You are currently browsing the WWJ News blog archives for January, 2014.
Tuesday, January 28th, 2014
Warehouse workers marched through a local Walmart Supercenter on Tuesday to protest frigid working conditions.
Contractors at the Walmart Consolidation Center on 141st Street in Hammond marched into the store on Fifth Avenue to notify the public about freezing weather conditions at the warehouse.
Workers said the third-party warehouse operated by LINC Logistics Insight Corp. provides no heating, and damaged warehouse doors allow cold winds to pass through the facility.
Protesters presented a signed letter to a Walmart manager, but he would not accept the letter despite chants from the protesters.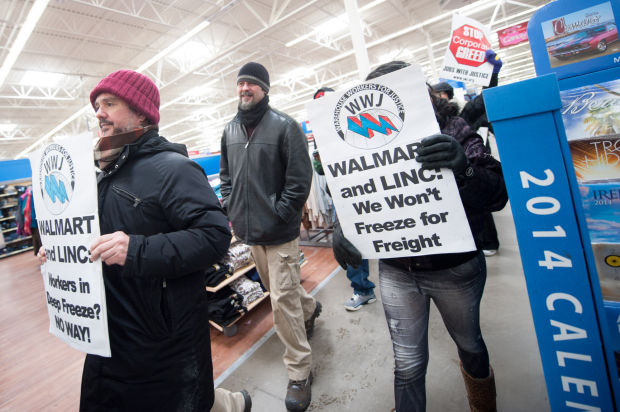 Wednesday, January 15th, 2014
Subjected to sub-zero temperatures and compelled to work despite a state of emergency, sub-contracted Wal-Mart warehouse employees halted work and forced their boss to shutdown the building, according to a union-backed group.
"They are running a slave trade," charged Dion Stammis, an employee of Linc Logistics, the company contracted by Wal-Mart to run the Hammond, Indiana facility. Linc's parent company, Universal Truckload Services, did not respond to multiple requests for comments; neither did Wal-Mart.
The Warehouse Workers Organizing Committee, a labor group backed by the United Electrical, Radio & Machine Workers of America union, started organizing last year against alleged abuses in the Hammond warehouse. (The same group supported 2012's multi-week work stoppage at Wal-Mart's top U.S. distribution center, in Elwood, Illinois.) They allege that unaddressed issues including broken dock doors and lack of heaters leave the warehouse's workers exposed to snow, rain, ice, and freezing temperatures. WWOC organizer Sean Fulkerson told Salon that the facility "had torpedo [gas] heaters before Wal-Mart got the contract," but "when they switched it over to a Wal-Mart facility they pulled out the heaters" because "they didn't want to pay the gas bill." Now, he charged, "people were getting written up for going to the bathroom and trying to warm their hands under their hand driers."